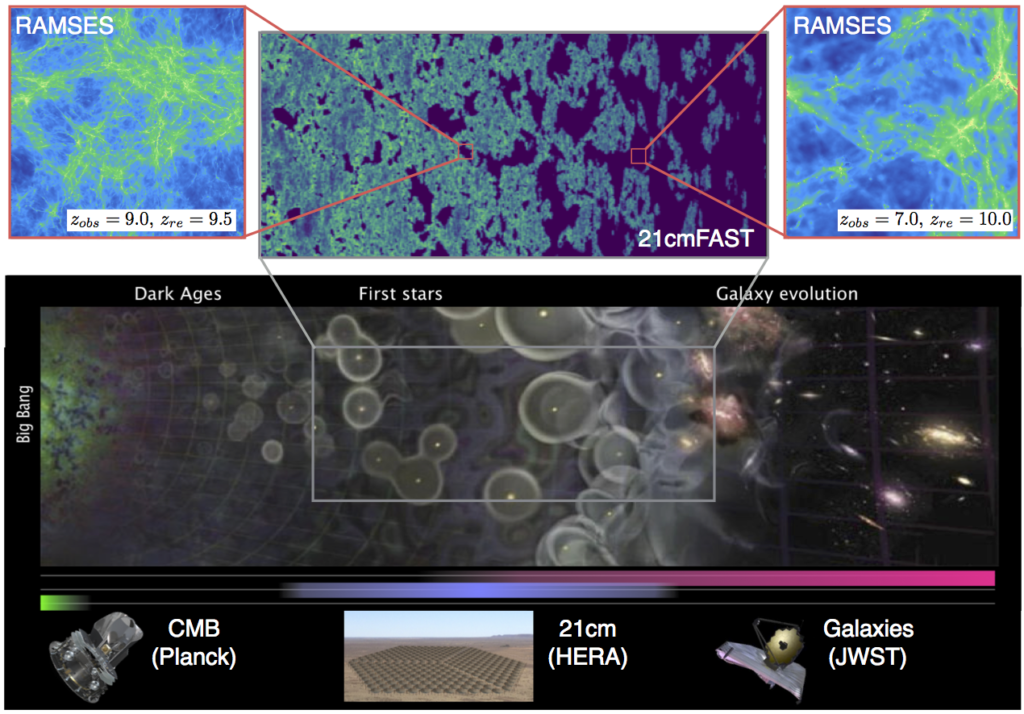 My background is in 21cm cosmology, but there is much to be gained by combining multiple probes of the EoR. I've been working on combining the noisy, low resolution maps that will be produced from instruments like HERA with future high redshift galaxy surveys with instruments like the James Webb Space Telescope (JWST). While HERA will be sensitive to the neutral intergalactic medium as it becomes ionized, JWST will detect the actual objects that cause the ionization. These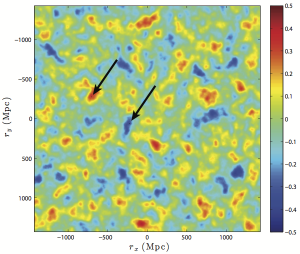 observations are very complimentary, but finding ways to combine them is difficult owing to the disparate size scales they probe. For example, the image at right shows a simulated image from HERA with a realistic field of view and resolution. The arrows are pointing at tiny black dots which represent the field of view of a deep JWST observation. Furthermore, the contamination caused by foregrounds in the 21cm data leads to images that are difficult to interpret. I'm working towards understanding the nature of the data produced by both types of observations in an effort to combine probes from multiple wavelengths, strengthening the science production from all EoR experiments.
The image at the top of the page depicts one possible way to bridge this gap using high resolution hydrodynamic simulations in tandem with large-volume 21 cm models. We can use the large simulations to predict the signal that will be seen by wide-field, low-resolution instruments like HERA, while populating the cosmological volume with galaxies consistent with local reionization history using the hydrodynamic simulations. Using this framework, I will identify signatures of galaxy observables which are affected by the ionization of the gas feeding star formation, such as the flattening of the luminosity function. Studying galaxies in the context of their intergalactic medium will enable me to address questions about galactic feedback and the influence of reionization on the formation of galaxies.